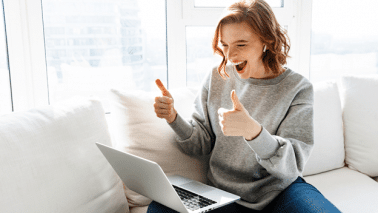 At Smiles For Maine Orthodontics we've noticed a trend over the past year: more and more adults looking to straighten their teeth with orthodontics. Adults have always been interested in having a great smile but we think there's a reason for this sharp increase in requests: Zoom. 
Think about it, pre-Covid you'd finish your morning routine at the mirror and then you wouldn't see yourself again until it was time for your bedtime routine – other than the occasional trip to the bathroom or to take a fun selfie. Now that we're on Zoom and FaceTime for all our meetings (sometimes even if you're back at the office) and virtual gatherings, we're busy staring at ourselves, and our smiles, ALL DAY LONG! 
No wonder more adults are seeking orthodontic treatment. And it's not just any orthodontic treatment they're after – Invisalign is the most highly sought. Invisalign Clear Aligners are the way to go for adult orthodontic treatment. Not only do they take less time than traditional braces, but they're virtually invisible! Plus, we can treat only the elements of your smile that are most important to you.
Get that new smile before we go maskless again!
Here's how it works: we start with a 3D scan of your teeth and then Dr. Brian Patterson uses our 3D imaging technology to map out a unique treatment plan and create custom aligners to guide your teeth along their journey. It will be important that you wear your aligners 22 hours per day – and since we're all home more often these days, good hygiene will be easier to attain. 
We know there are a lot of direct to consumer options out there – here's why we think it's important to seek orthodontic care at a local practice: Orthodontists MOVE BONES IN YOUR FACE. Your teeth are bones! Without proper x-rays (we do 3D ones!) you could cause serious damage to your jaw, bite and smile. A local orthodontist, like Dr. Patterson has spent years studying in dental school, then additional years of education to gain an Orthodontic specialty degree and he is trusted by thousands of families in our community. 
You've figured out your Zoom background, it's time to focus on the foreground.
If you've been staring at your smile wishing it was straighter, don't waste another minute. Contact us today for a complimentary consultation – yes, free! We can't wait to meet you and help you achieve the smile of your dreams. 
Call us today at (207) 873-7425 to schedule a free consultation – we can start virtually or in person – your choice! 
MEET DR. BRIAN PATTERSON
Dr. Brian is a 2016 graduate of the University of Texas School of Dentistry at Houston where he was a member of Omicron Kappa Upsilon Honor Society.  He then completed his Master's degree and orthodontic certificate at Saint Louis University's Center for Advanced Dental Education in 2018, where he was awarded the best clinician in his class.  He is a member of the Maine Dental Association (MDA), American Association of Orthodontics (AAO), and a candidate for the American Board of Orthodontics (ABO) certification.  Dr. Brian said that he chose orthodontics because it is a unique blend of both art and science, which aligns with his personality.  He also explained that his unwavering commitment and passion for orthodontics stems from his personal experience in orthodontic treatment and the impression that it had in his life – both esthetically and in his self-confidence.  Dr. Brian has said that he "feels blessed to have a job to create smiles that not only look beautiful, but truly have the ability to change someone's life."
Read more about Dr Brian Patterson here.