Your Smile is Our Priority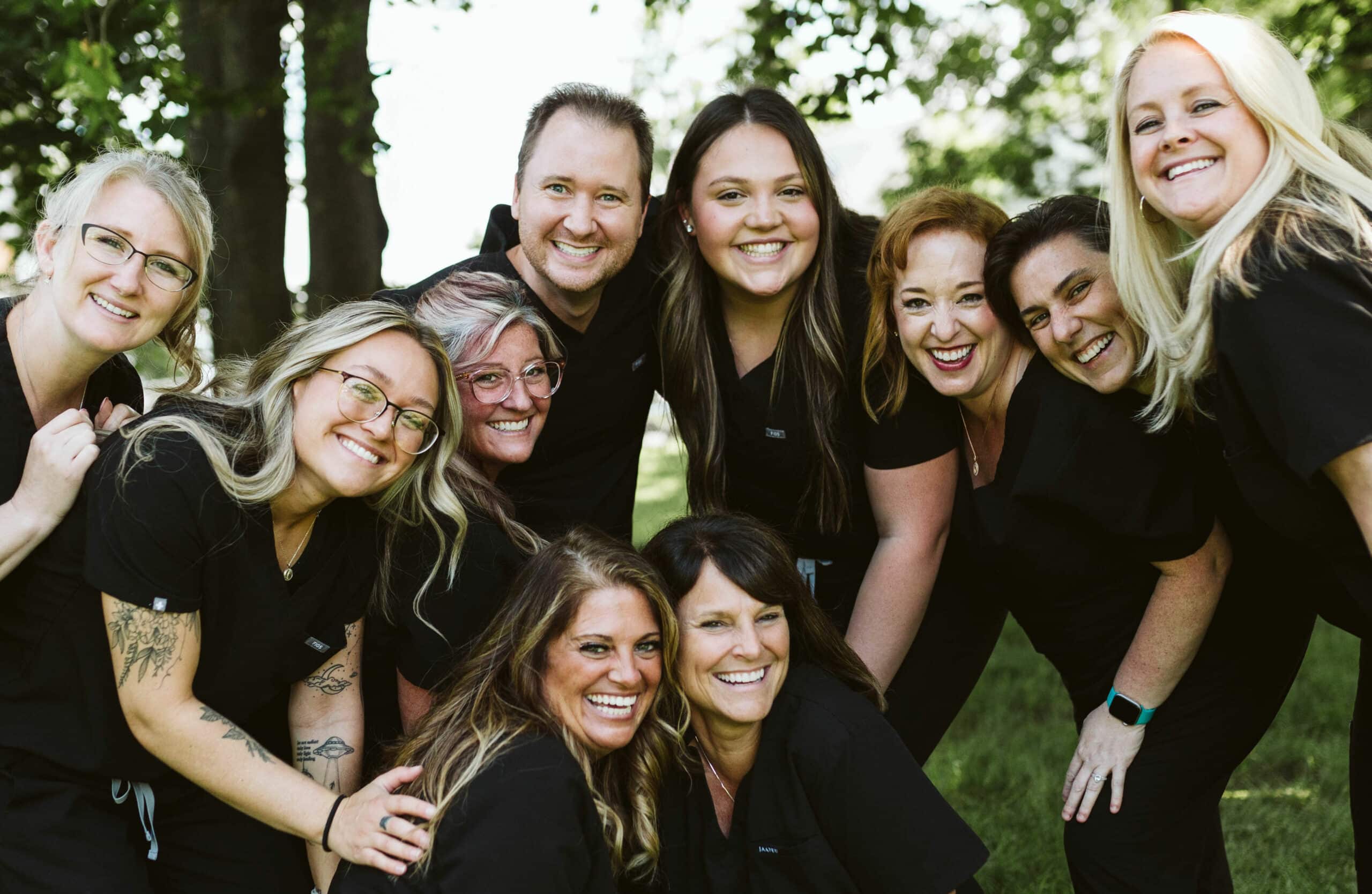 Smiles for Maine Orthodontics
SMILES FOR MAINE ORTHODONTICS
WELCOMES PATIENTS FROM THE
WATERVILLE AREA AND ACROSS CENTRAL MAINE
Thanks for visiting the orthodontic website of Smiles For Maine Orthodontics! Our practice combines the latest advancements of orthodontic technology with the warm humor and gentle touch of Dr. Brian Patterson.
A healthy smile is your "first impression maker" – it's what people remember about you! The team at Smiles For Maine Orthodontics believes no one should feel self-conscious about the appearance of their teeth. Our suite offers the latest, most advanced orthodontic treatments – many designed to give you a straighter smile in less time than traditional braces, including:
iTero Digital Impressions
3D Printing
Schedule a Complimentary Consultation
Smile for Maine Orthodontics has been putting smiles on the faces of Maine residents since opening their first practice in Waterville. It is the perfect time to schedule a complimentary consultation to see if orthodontic treatment may benefit you or a family member. Contact Smiles For Maine Orthodontics today!
Dr. Brian loves connecting with patients and their families! He takes an active interest in their personal growth and ensures strong communication with the patient's entire dental team.  He provides patients with modern, state-of-the-art orthodontics including Invisalign, 3D imaging, and 3D printing in-office.
Dr. Brian said that he chose orthodontics because it is a unique blend of both art and science, which aligns with his personality.
Dr. Brian is the proud father to 4 children.
Dr. Brian loves his community and loves giving patients of all ages a healthy and beautiful smile!
We pride ourselves on providing hands-on treatment, personalized for each patient's unique needs.
Leading Edge Orthodontic Technology
5-Star Rated Orthodontist
Aleya L
★★★★★
The absolute best orthodontics practice!! The staff is amazing. Just got my braces off today and I couldn't be happier!
Crystal McKenney
★★★★★
3 out of 4 in my family have been patients here, so our experience has spanned about 15 years with Dr Ruff, Dr Patterson, and crew. The care is awesome, pricing is competitive, and the people are great. Special shout out to Lindsay, Kori, and Sara for being the best 🙂
Heather Turcotte
★★★★★
As an adult I thought I would have some sort of shame getting braces, but the team literally made me feel like this was my second home.I am now wearing a perfectly straight smile, and have my youngest daughter on the books for an appointment.100/10 recommended.
Cheyanne Gagnon
★★★★★
I couldn't be happier with how my teeth look thanks to Dr. Brian and all the incredible staff at smiles for maine orthodontics
Denise Casey
★★★★★
If you need braces or orthodontic work. Go there! They are wonderful! The staff are friendly and make you feel right at home! Dr Huff is amazing. Explains everything so well. I went in a little nervous but left so excited. They are very thorough, the facility is clean, the staff make you feel so comfortable and go over everything so well. They take their time to listen and answer questions.
Traci McDonald
★★★★★
Both of my kids were treated here and still have beautiful smiles years later. The staff is so professional and knowledgeable. They made my kids enjoy treatment and look forward to their orthodontic appointments!
Amanda amanda.guerin
★★★★★
A big thank you to the staff of Smiles to Maine as they are always very helpful and have a big smile on their face, especially the front desk! I am very grateful for everything they have done to help my smile!
Amanda Lawrence
★★★★★
Coming a full circle here- I reached out to Smiles for ME 1.5 years ago due to the outstanding reviews they have and here I am now giving a 5/5 (100 stars if I could) after completing Invisalign.The staff is so warm and welcoming and extremely knowledgeable in everything they do. Dr. Brian never made me feel rushed and answered all my questions thoroughly, citing current practices and research to help me understand my orthodontics health and choices.There's a reason why Smiles for ME is the highest rated orthodontic practice- I highly, highly recommend to anyone seeking orthodontic services!
Kevin Gagnon
★★★★★
I couldn't recommend Dr. Brian more! I found him to be kind, courteous, and professional. He took the time to educate me on what my needs were. I gladly give a 5+ star recommendation. Kevin G
Jennah Gagnon
★★★★★
Brian is a great orthodontist! Very knowledgeable and great with kids!
Joleen Spencer
★★★★★
Always a pleasure. Great friendly staff.
Chelsea Patterson
★★★★★
I am a current patient at Smiles for Maine, and I am loving my new smile! The staff and Dr. Brian are so friendly and kind! They have gone above and beyond for me. I am definitely not the easiest patient, but they have always been so patient with me! I would highly recommend this office if you are wanting braces or Invisalign. There is a high level of excellence in all their work that I greatly appreciate.
Tylo Smith
★★★★★
The staff was very engaging and helped my guys feel welcome and less nervous.
Jenvan Ames
★★★★★
I am absolutely thrilled with this office. Every person is friendly, knowledgeable and kind. I left very happy and satisfied!!! I would totally recommend this group for anyone looking to beautify their toothy smile!
Katherine Bell
★★★★★
I went in to get more glue on my permanent retainer- not loose, just a sharp end. I had just gotten it fixed less than a year ago so it was a little frustrating having to go back to get it fixed again. Dr. Brian came and took a look and said that I did not need to be charged since it was not a full repair. That helped a lot financially!
Kristin Lee
★★★★★
Friendly, caring people....they are there for you in my experience.
Chasity Butler
★★★★★
When I first came into the office the front office staff was super friendly. Sarah was wonderful to deal with and both she and Dr. Patterson explained my options perfectly. I'm actually looking forward to starting my treatment with them.
Amanda Hamner
★★★★★
Everyone from Smiles for Maine actually wears a smile on their faces! From the feont desk, Assistants and Orthodontist... so happy and pleasant the entire time. Patience with my son and his million questions!
Cari Jewett
★★★★★
Everyone at this office is absolutely wonderful. Friendly, knowledgeable staff who are willing to answer all your questions.
Shawn Smith
★★★★★
Just finished my Invisalign treatment here and I'm incredibly pleased! My teeth look amazing and I'm very happy with the result, the whole process from start to finish was such a great experience. Everyone is kind and thrilled to be there, you can tell that they are all smiling behind the masks without ever seeing their mouths.Several months into my treatment an employee I had spoken to only once, during my first appointment, stopped in to talk to the person working with me and not only did she remember me, but she remembered personal details we talked about in my first appointment there. Everyone on the staff gives off a friendly vibe and it's a very welcoming environment.I've also included a picture of the nice Yeti mug and balloons they gave me to celebrate my final day of treatment! Definitely a five star company in my opinion, and if you're considering or wondering about any sort of cosmetic dentistry I highly recommend Smiles for Maine for the job!
Liz Warren
★★★★★
I broke my ankle and had my sister bring me and got there early. They got me in early and everyone in the office was concerned about my well being. The girl I saw brought my invisalign box to the car for me cause I was on crutches!!
Danielle Sincyr
★★★★★
They were amazing, so friendly and inviting from the moment we received the referral. The atmosphere was just great and so positive. Thank you all.