Orthodontic treatment with braces is one of the most popular ways to get a beautiful healthy smile. A combination of brackets positioned carefully on your teeth and specially formed wires provide constant gentle forces that move the teeth into the correct position over the course of treatment.
At Smiles for Maine we have different types of braces to suit your look and your lifestyle. Your braces can be bold with changeable colors, subtly blend in with the natural color of your teeth, or even hidden behind your teeth for a discreet, "barely there" look.
Metal Braces
Traditional braces have undergone a number of positive changes over the years, with designs that make them more comfortable and less noticeable to others. These tried-and-true orthodontic techniques can work wonders for straightening your teeth and improving your smile. Smiles for Maine offers traditional brackets in a variety of colors our patients eagerly show off with style.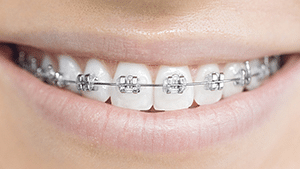 Ceramic Braces
Ceramic braces are made of clear materials and are therefore less visible on your teeth than metal braces. Designed to blend in with the natural color of your teeth, you don't have to worry about having a "metal-mouth" as you smile straightens. Ceramic braces, however, are larger than traditional braces are require extra attentive care when you brush and floss.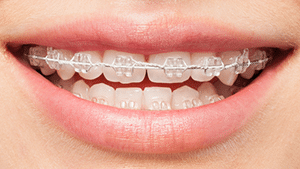 Invisible Braces
Clear appliances, such as Invisalign, are among the most state-of-the-art orthodontic advancements to come along in decades! Clear teeth aligners can frequently be removed for daily teeth cleaning and meals. These aligners are designed to progressively move your teeth into the desired position, and the treatment often takes less time than traditional braces to achieve great results! Learn more about Invisalign here.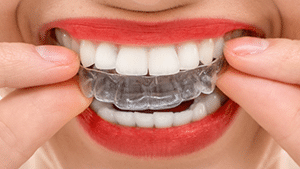 Mouthguards
More than three million sports and recreation-related injuries happen every year in youth between the ages of 5 and 24. Contact sports, in particular, create high injury rates, including sports like soccer, baseball, lacrosse, basketball and football. And yet, close to 70% of parents polled claim that if their league doesn't require it for sports like baseball and basketball, their child does not wear a mouthguard. Considering that a high school pitcher can throw a ball at a rate in excess of 70 MPH, mouthguards should be a consideration for more sports than those requiring them!
Rather than risk a dental injury that can cause long-term damage, invest in a mouthguard. While a mouthguard won't guarantee your sports will be risk-free, a custom mouthguard will minimize the risk to your mouth, teeth and gums. A custom mouthguard is easy to wear because it fits like a glove, made specifically for your child's teeth. Ask our team today about a custom mouthguard so your child's smile stays where it should.
We'll Determine Which Treatment Best Suits You!
Orthodontic treatment times vary based on the growth of the patient's mouth and the severity of the problem. But the use of the latest technology available has shown that treatment times are now faster than ever before. Ask Dr. Charlie, Dr. Brian, and our team about all the options available for you and how easily you can start on the road to a beautiful smile.