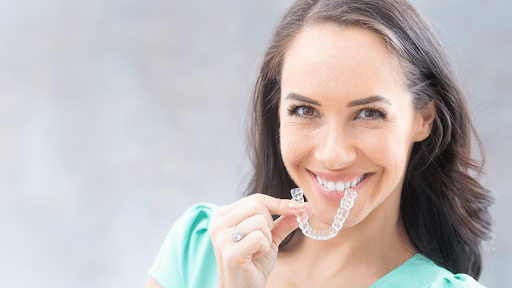 We often get questions at Smiles for Maine about Invisalign Clear Aligners: Are they as good as braces? Do they take longer? Are they more expensive? The answers are yes, no and no. Yes, we can treat just about any case with Invisalign that we could treat with traditional braces. No, they don't take longer (sometimes they're even faster!). And no, they are not more expensive – we price our Invisalign treatment at the same cost as braces so that doesn't have to be a factor in your decision making.
But why do we like Invisalign so much? Well there are the technical reasons – high tech, great flexibility, specificity in movement, etc. But what does your teen care about? Invisalign is clear, cool and comfortable.
Clear: Invisalign clear aligners make metal mouth a thing of the past. The aligners are worn for 22 hours per day and are barely discernible – no closed lipped selfies necessary.
Cool: While we wish it weren't a factor, we know that kids and teens want what's cool. Whether they want to decorate their aligners with Stickables (Invisaligns newest trend) or stick to the crystal clear look, they get to have fun with their smile journey when Invisalign is involved.
Comfortable: Invisalign clear aligners are 3D printed to our exact specifications. That means they are unique to your child's mouth, preventing chafing from extraneous plastic or loose wires.
It's for these reasons and more that we offer Invisalign as a treatment option for our patients (kids, teens and adults alike).
If you'd like to learn more or find out if Invisalign is the right fit for your child, contact us today! We offer complimentary consultations and can't wait to meet you!
Smiles for Maine Orthodontics offers complimentary new patient exams. You can visit our website or call us at: (207)-873-7425 to request an appointment.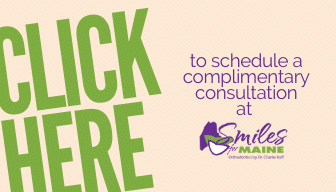 MEET DR. BRIAN PATTERSON
Dr. Brian is a 2016 graduate of the University of Texas School of Dentistry at Houston where he was a member of Omicron Kappa Upsilon Honor Society.  He then completed his Master's degree and orthodontic certificate at Saint Louis University's Center for Advanced Dental Education in 2018, where he was awarded the best clinician in his class.  He is a member of the Maine Dental Association (MDA), American Association of Orthodontics (AAO), and a candidate for the American Board of Orthodontics (ABO) certification.  Dr. Brian said that he chose orthodontics because it is a unique blend of both art and science, which aligns with his personality.  He also explained that his unwavering commitment and passion for orthodontics stems from his personal experience in orthodontic treatment and the impression that it had in his life – both esthetically and in his self-confidence.  Dr. Brian has said that he "feels blessed to have a job to create smiles that not only look beautiful, but truly have the ability to change someone's life."
Read more about Dr Brian Patterson here.